The packing never ends when a new mom decides to travel with her baby. As a mom, I understand anything and everything looks important when it comes to kids. From their diaper to the medical kit, from their clothes to that special sipper, everything seems a must-have in our backpack. We always make a checklist before packing and then after packing we crosscheck, to make sure we didn't miss anything.
In the last three years, we have traveled to many places with our little one and Teddyy Changing Mats has been our traveling partner always. Here are a few reasons why keeping a changing mat in your traveling kit is a must:
If your little one is as naughty as mine, then I am sure you understand that keeping them in one place while you change their diapers or when you give them a little oil massage can be super messy. You have to put something underneath in order to keep the bedsheets clean. Teddyy Changing Mats come in handy in this regard.
These are disposable, convenient changing mats that make sure your travel is mess-free.
Keeps the little one's skin safe
These mats have an anti-bacterial core and hypoallergenic formulas that help keep our babies healthy and allergy-free. A mother can never compromise when it comes to the health of her baby. Often, when we used to travel with our newborn in public transport like train, we were not sure if the seats and births were clean enough for her. I used these mats to lay her down and let her play and relax having peace of mind that she is safe from germs.
They are lightweight and super easy to carry. Instead of those heavy blankets or bed sheets to protect the berth or your car seat, you can use these mats. The best part is that since these mats are disposable, there's no need to deal with a heavy-duty cleanup process later.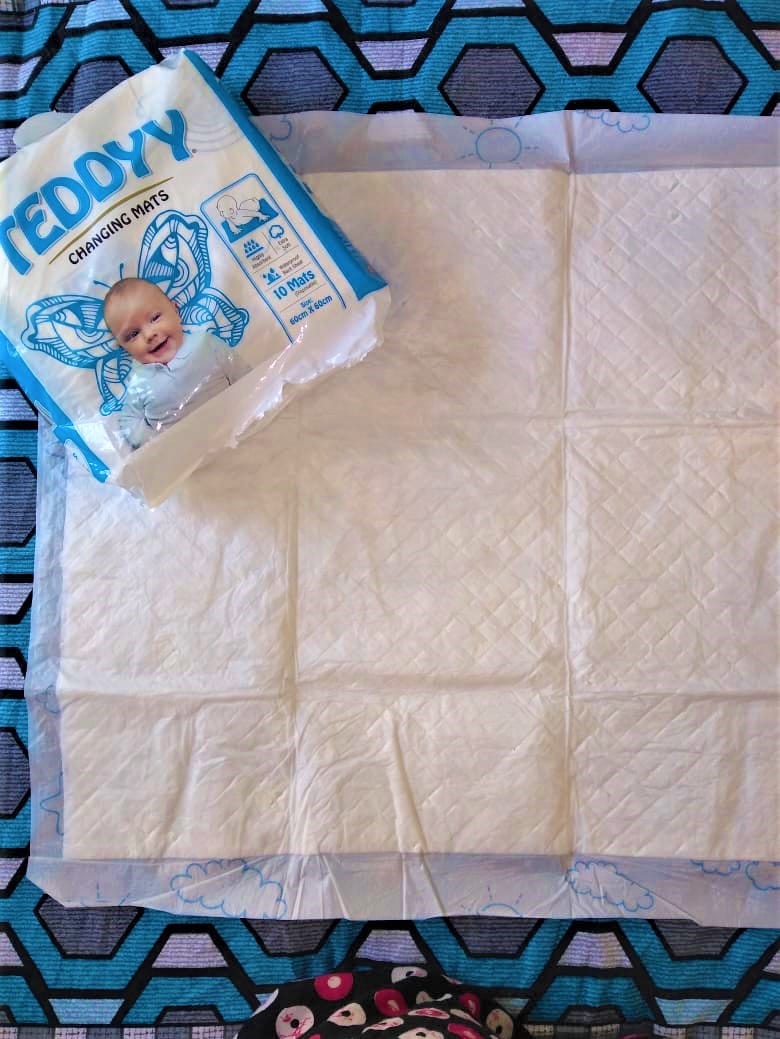 The criss-cross design of the mat absorbs the mess fast and makes sure that there are no spills. You can fold it and keep it in the diaper bag and it doesn't take up too much space either. These are a must-have in your bed during/before massages to keep the bed clean, or as an added protection in the pram/stroller while traveling.
My little one hates wet clothes and when she was a newborn she used to cry so much even if she was in a wet nappy for five minutes. These mats have a waterproof back sheet which makes the mat spill-proof. They are super absorbent and hence make sure that my baby is dry and can play happily. I love the soft and spongy material used in these mats that have been done keeping our babies' comfort in mind.
I hope this post has helped you understand the product and its benefits. These sheets are very cost-effective and are available on Amazon at just 299 for a pack of 10! They're also available in different variants and often at discounted prices.
If you liked reading this, then please do not forget to subscribe to our newsletter. Have you checked our parenting zone or recipe section? Also, if you like my work, don't forget to follow me on INSTAGRAM.
This is a sponsored post by Mothersparsh but all views are mine. I have personally used the products and reviewed them on my experience.