Who doesn't need a good laugh in such a hustle bustle of every day's life? Switch off your thoughts and switch on the laughter with these comedy series. There are a few on this list which is my absolute favorite and I can tell you the dialogues from each episode because I have already watched these million times. It never gets old and I never get bored watching these.
I am little too old-fashioned when it comes to comedy. Profanity, trolling or offensive content doesn't hold my interest at all. Offensive part can be debatable, given the current situation in our country (see what I did there). For me, anything that can make someone feel bad about themselves is not worth my laughter. I am sure few of these you have already watched but if you haven't then you must and I assure you, it will be well worth your time as well as laughter:
F.R.I.E.N.D.S
This is not just a comedy series, it drives emotions in people. From cafes to merchandise, this series made such an impact on people that everything from this series became our favorite. "Joey doesn't share food" to "Smelly cat, smelly cat…" each dialogue became a part of our conversation. For me, I fell in love with Chandler and Monica's love story.
From each season to the next one our love for the series grew stronger. I don't how many viewers cried in the last episode when that door was locked but I sure as hell did. I have made it a point in my head that my little one will watch this series too so we have more topics to talk about in her teenage (#momsplanningneverends). It definitely tops my recommendation list.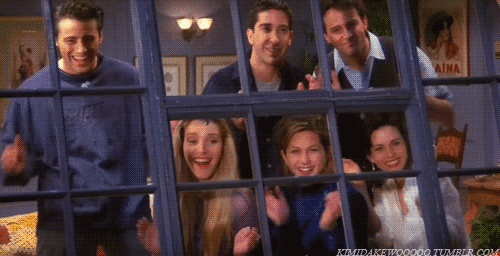 How I Met Your Mother
Okay, so I watched this series after watching friends and thought it is not that fun. But boy, was I wrong. Ted Mosby is just too damn adorable to not get your interest and then who can stay away from the charm of Barney Stinson. I dreamt of finding a guy who would steal a blue horn for me. Life didn't disappoint me but that is a topic for some other time.
Lilly and Marshall are one of the cutest, funny and extremely entertaining couples I have seen in any series.  Barney' stints with women and then hopelessly falling in love with Robin made me laugh and gush at the same time. Watch it with your partner and make your weekend's all the more fun.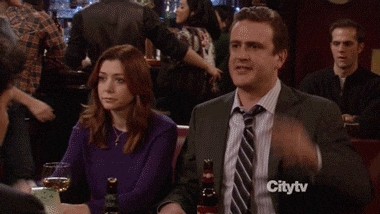 Sarabhai VS Sarabhai
This Indian sitcom was and is one of my all-time favorites. Who can forget mummy ji's so "LS" comments on her daughter-in-law's choice or Rosesh poems? Indravadan Sarabhai and his wife Maya is a couple that is relatable and funny. If you are a fan sarcasm like me then you have to listen to the dialogues of Indravadan Sharma.
Their older son Sahil and his wife Manisha live in the apartment across the hallway. Much of the humor is derived from the fake, artificial and shallow interactions among the city's elite and their perceived notions of the shortcomings and failings of middle-class society (Source: Wikipedia)
Bing Bang Theory
This one is on the list majorly because it is one of the very few series which I and my better half enjoy equally. Sheldon Cooper, you have my heart. He is a person who can make Pictionary one of the most difficult games in the world but in his head, it is as easy as reading alphabets. Understanding human emotions are difficult for him (who can blame him, humans are difficult to understand) but he is hopelessly in love with a girl named Amy. The theme song is so catchy that it stays in your head for a really long time. Rajesh Koothrapali our home is killing the game in the series with side-parted extra oiled hair.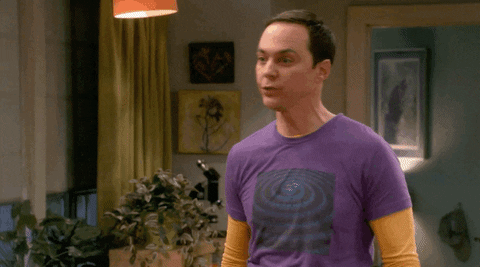 Two Broke Girls  
Two girls from the different financial background are planning to make a mark in the baking business and both are poles apart from each other yet so similar in their behavior. The contrast of the characters in the series is what brings the laughter. The two work together at a Brooklyn diner, soon becoming roommates and friends while building toward their dream of one day opening a cupcake shop. Max and Caroline are each other's biggest support system. Another fun series from Warner Bros.
This one is last in the list because few of the seasons are real but few let me down in the laughter meter. Watch it and let me know if you too think the same or different.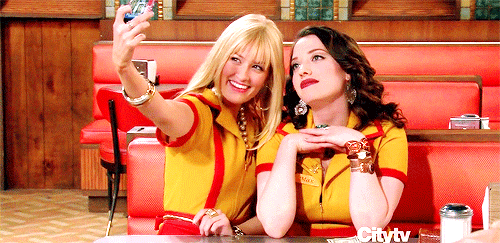 There are so many wonderful comedy series that I am yet to watch if you know any interesting one then don't forget to drop a message in the comment section.
I'm taking my blog to take the next level with #MyFriendAlexa with Blogchatter.