Idli bomb is delicious and super easy to make. This lockdown has made sure that we learn the meaning of being "aatmnirbhar" 🙂 The house chores which seemed impossible to finish now look like a tiny task of a day. Moms have always been a multitasker, or so I believed, but this lockdown made us all the more pro in this game. All thanks to this lockdown, I have tried my hands on many recipes #easybreakfastideas. The ones which are hit in my house, I will be sharing with you all.
Curd is really good for summers and paneer is a good source of protein. This #easyrecipe of idli is healthy and tastes really good. Remove or reduce chili from the recipe and see your kids relish this too. I have made these Idli bombs in small steel bowls and used a pressure cooker (take the whistle out) to create steam.
Ingredients
Sooji/Semolina 2 cups,
paneer 100 gms,
curd 100 gm,
Baking Soda (Optional) one pinch,
Salt,
ginger-garlic paste
For tempering
mustard oil 2 teaspoon
Mustard seeds
 red chili powder(degi mirch)
Asafoetida (Hing)
Curry leaves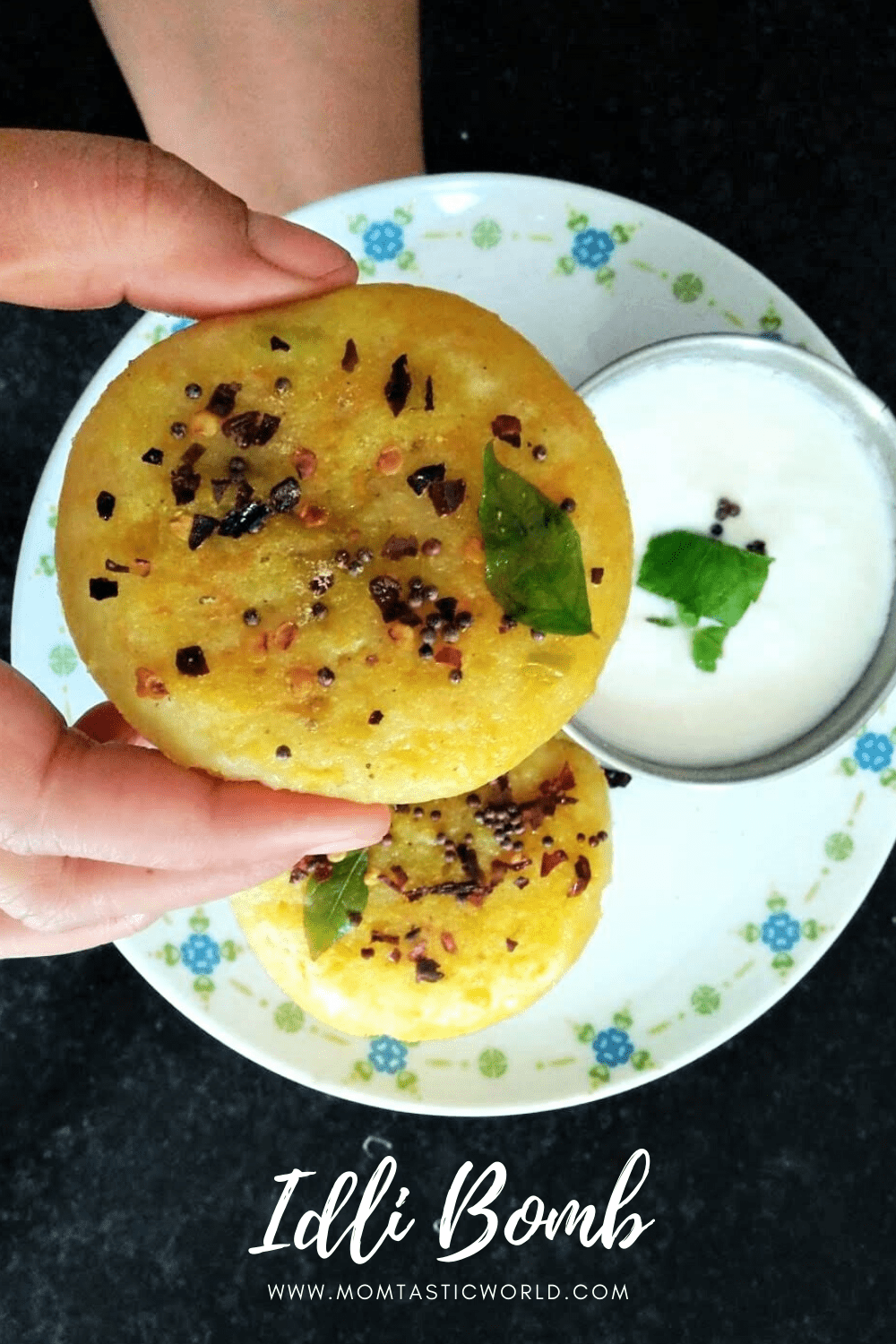 Preparation:
Take a big bowl, now put curd, sooji, and a little amount of water. Mix it all well, and create the consistency of an Idli batter. Now add one spoon of ginger garlic paste, salt as per your taste, and a pinch of baking soda, give it all a good mix.
Keep it aside, now put the cooker with 3 cups of water in it on the flame. While the water gets a little warmed up, pick 3 or 4 similar size small bowls. Grease the bowls with refined oil. Now pour two spoonfuls of batter into each bowl, cut a piece of Paneer, and put it in the middle. Cover it again with another spoon of batter. Paneer should be covered properly.
Now, we need to put these bowls in the cooker (be really careful as the vessel would be hot). I have used a chapati steel stand at the bottom of the cooker, so I can fit three or four small bowls in a cooker. You can use the idli stand too. Carefully place the bowls in the cooker and cover it with the lid. Make sure to take the whistle out. Leave it for 15 minutes.
Once the cooker cools down, take the bowls out carefully and turn them over on a plate.
For Tempering
Take a pan and add two-three teaspoons of mustard oil. Once the oil is hot put mustard seeds and when it starts spluttering add hing, and curry leaves. Put dry spices as per your taste (Red chili, salt, turmeric powder). Now add put these idlis on the pan and cook well from both sides (golden brown and crispy)
Take it out on a plate and serve it hot with green chutney, curd, ketchup, or with our good old warm cup of ginger tea,
If you liked reading this, then please do not forget to subscribe to our newsletter. Have you checked our parenting zone or Books Corner? Also, if you like my work, don't forget to follow me on INSTAGRAM.