Curd has been an integral part of the meal since childhood. The benefits of curd are many and it is a must to have in summers. It is healthy and can be used in many recipes. This fermented food is known all over the world.  The unique nutritional value of curd is beneficial in many ways. Not only it enhances the taste of various foods, but curd also improves digestion and provides strength to bones and teeth.
Mom used to make ghee at home almost every fortnight and because of that, we use to have plenty of buttermilk. Maa, use to make so many varieties of kadhi that we fell in love with the dish. From masoor dal kadhi to besan ki kadhi and from vegetable kadhi to sweet and sour kadhi, we had it all. After moving to the new city, I tried inculcating this "biweekly-kadhi-making" habit in our routine too. One tip or suggestion which I would like to share is that make kadhi or any such gravy for that matter, in an earthen pot and you will see the difference in its taste. Kadhi tastes absolutely delicious if you make it in an earthen pot. Delicious food items after being cooked should be served well too. After all, people eat with their eyes first.
Food on my plate should look good ?, and the aroma should reach my nostrils before the food reaches the taste buds is something that I have always believed in.
Kadhi chawal or kadhi Rice is one of the staples in our house, once a week it must be included in the meal plan.? There are so many variations of kadhi but this one is the easiest of all:
?Ingredients:
Besan/gram flour 1 cup
Veggies (grated Carrot?, capsicum, onion, Tomatoes?)
Curd+chanch, Coriander leaves
Spices (turmeric, salt)
Garlic cloves
?For tempering:
Rai/mustard seeds and cumin/Jeera
Oil/ghee
Curry leaves
Hing and Red whole chili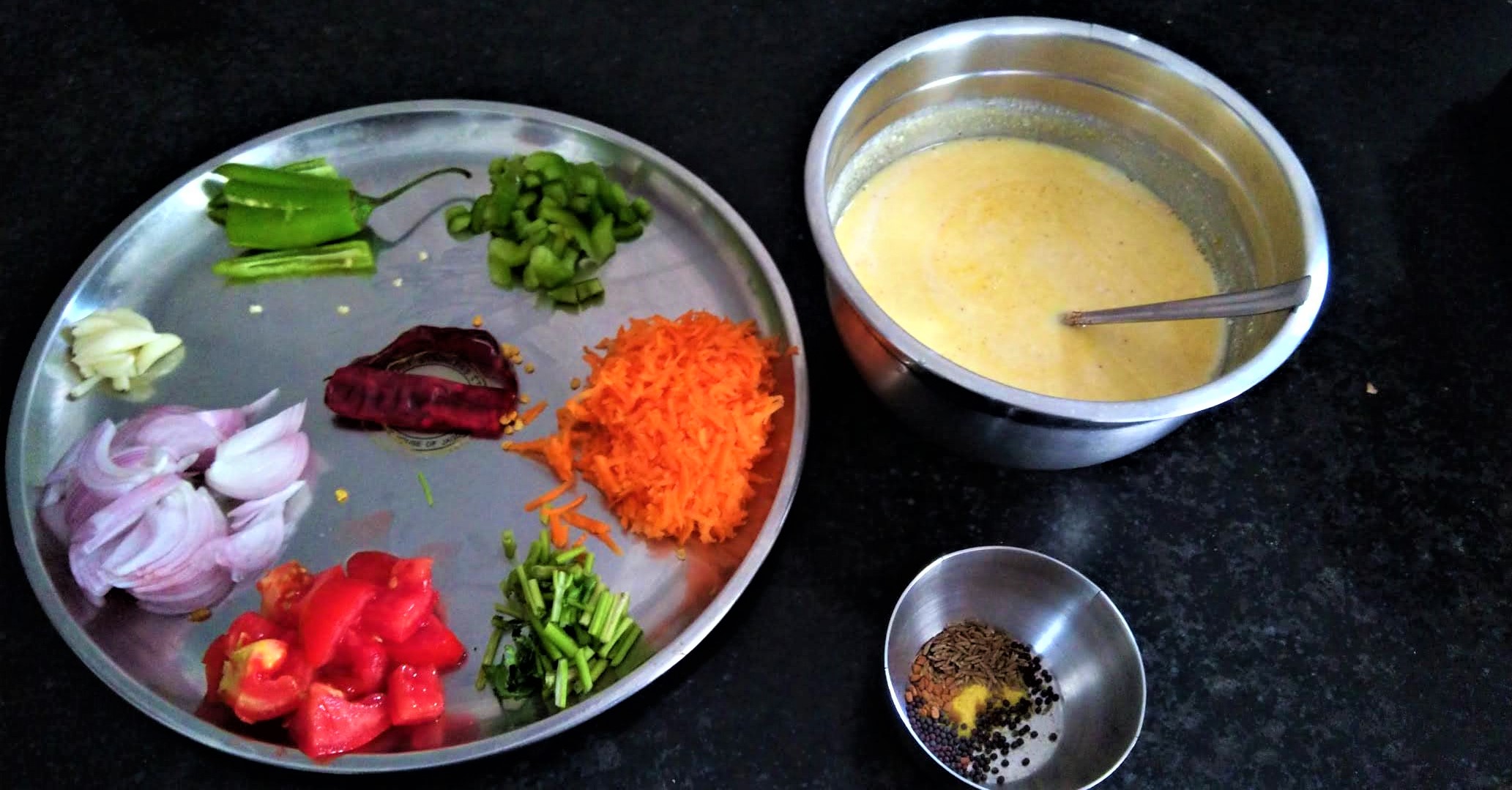 Preparation:
Mix around 150gm curd and 100ml chanch/buttermilk in a bowl, add besan and keep stirring (to avoid lumps, add small quantity at a time). Mix it well, add one cup of water, and leave it aside.
Heat two spoons of oil/ghee in a pan. Add hing, rai, curry leaves, and red whole chili. Let the mustard seed splutter. Now add garlic and then onion till it turns translucent, add turmeric/haldi… then add grated ?, capsicum, small pieces of tomatoes. At this point, if you like a little Spicer version of the kadhi then add slit green chili.
Saute all the veggies well and then pour the besan mix. Keep stirring the kadhi to avoid curdling of chanch/buttermilk.
Let it boil for 15 to 20 minutes and then add salt. Adding salt at a later stage helps in avoiding the curdling of buttermilk.
Let it simmer on a low heat for good 15 minutes. Add fresh coriander leaves and serve hot with rice or chapati. ❣️
If you liked reading this, then please do not forget to subscribe to our newsletter. Have you checked our parenting zone or Books Corner? Also, if you like my work, don't forget to follow me on INSTAGRAM.