From Instagram to blog, pictures are an integral part of almost all the social media platforms. To make our content relatable we use tons of pictures however, quite often the raw version lacks brightness, contrast, orientation, or, we just want to add something to make the photos look catchy. That's when the editing apps come handy fr us. There are so many apps available nowadays that selecting just the right one could become a bit daunting task for many.
The right free photo editor will help transform your pictures. From correcting colors, erasing blemishes and much more can be done with the help of this so the pictures are ready to print or share online.
A content-relatable and clear picture increases the chance of bringing the audience's attention to our work. Here are the apps that I have used and loved to make the pictures better and bright for all social media platforms including the blog-post. For blog posts, I often use Unsplash.com, if I don't have a picture fit for the content on my phone gallery as they have an enormous collection of beautiful pictures.
Few of these apps have the paid versions too however, I have been using these from past one year and so far the free versions haven't disappointed me. Free versions of these apps have plenty of features to play with :
1) Snapseed
This app has to be on the top of the list because I use this the most to edit Instagram pictures. It is user friendly and gives the best result. This is my go-to option in editing apps for playing with the colors of the picture. Not only it has a lot of features which lets you play with a lot of options of editing *free of cost*. This app comes loaded with image manipulation tools and presets that are quite easy to use.
Most of the editing work is done in the Tools section of the app. From a healing brush to glamour glow, and from color contrast setting to different filter choices, each feature helps you get the desired result in a refined format.
Why install it:
User Friendly
Healing brush, glamour glow, and such fabulous features
No advertisements
2) Pixaloop
I haven't used it that much up until a couple of weeks ago but I am kind of liking the editing options this one gives now. It's my current favorite at the moment and I am playing with it to learn more. For this, I believe we need good quality pictures because once the animation is added, pictures tend to lose their pixel quality.
This app allows you to easily change pictures with strong, accurate, and easy-to-use animation instruments. It has plenty of free features that will do wonders for your Instagram Stories once edited. Its intuitive system of paths and anchors enable you to easily add animation effects to photos by segmenting them. For each photo, you'll have a part of the photo that moves and other parts that are frozen in time.
Why install it:
Easy-to-use animation instrument
large library of "effects" and overlays like rain, sparkle, fog, etc.
Cons:
Less number of free features
Editing versions cant be saved on the phone unless you upgrade for paid services
3) Canva
Canva is the reason I can make Pinterest pins with no hassles. This is a simple yet robust online design platform that helps to turn a simple idea into a stunning design. There are a ton of templates you can choose from to work with multiple categories. These include infographics, posters, and even business cards. One of the best things I found on this platform is that it is Integrated with a stock photo image bank.
Thank you so much for appreciating my Instagram stories, a major portion of goes to this app. I have been using this for my blog, Instagram, Pinterest, and whatnot. I haven't seen a more user-friendly app than this. Use this on my laptop and phone with no trouble whatsoever.
Why install it:
A one-stop-shop for all the posters/Pinterest pins/templates.
Access to over 8,000 templates
User Friendly
No advertisements
4) Adobe Lightroom
Many of my photographs often lack the proper lighting, all thanks to staying in a high rise building which less access to sunlight. This one app helps me bring the right amount of exposure to the picture. It is one of the least used editing apps on my phone, I just can't get a hang of it properly. it has features like Panorama and HDR stitching with Powerful raw profiles and filters.
I think for this particular app a paid version is a better one, as the unpaid one has extremely limited features.
Why install it:
Powerful raw profiles and filters.
Panorama and HDR stitching.
1TB cloud storage for syncing photo collection.
5) PicsArt Photo Studio
PicsArt is one of the favorite photo editing apps out there for many reasons.  It comes with a built-in camera feature and a social network for sharing photos. The app is available for free with some in-app purchases, though, you have to deal with ads. One of my favorite features of this app is the brush mode for applying effects selectively on particular parts of a pic.
Why install it:
Lots of creative user controls
Wide range of photo-import options
A rich array of editing tools and filters
If you can bear with adds then the free version is definitely worth giving a try for editing your picture.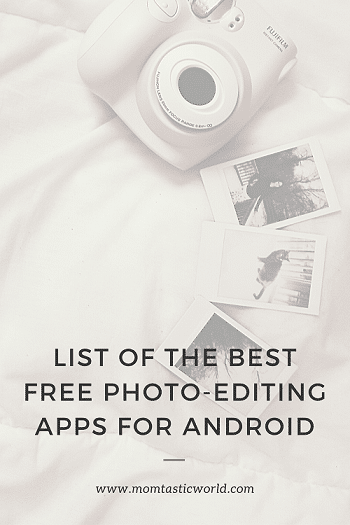 Got some questions? Or suggestions for better editing apps then don't forget to add it in the comment section below.
If you liked reading this, then please do not forget to subscribe to our newsletter. Have you checked our parenting zone or Books Corner? Also, if you like my work, don't forget to follow me on INSTAGRAM.