I was in 12th standard when I earned my first paycheck (a mere few hundred). I had two dreams since the day I started earning, the first one was to take my parents on an all-expenses-paid trip and the second one was to give them an experience on air travel. Being from a middle-class background, traveling or exploring cities was a leisure activity. Going to our maternal or paternal homes was our maximum quota of travel in a year. My father got retired a couple of years ago, I wanted to gift this trip for his retirement but things did not work out as planned.
At the start of February this year, we started to plan a small trip with both sets of parents. Stars lined together and everything fell into place in the coming days. Being a planner of the group I took the responsibility of planning the whole trip from the train, and flights to hotel rooms. A total of 10 people went on this trip and created memories that we are going to cherish all our life. To be honest, initially, it felt like a mammoth task given the itinerary we were planning to go for but with meticulous planning, several bookings, and a million calls later a perfect trip was planned. Our group had an age bracket of people aged from 70 years to a year old baby.
Let's dive into all the details of the day-wise itinerary along with pictures. I really hope these will help you plan any future trips if you plan to visit these places.
#Day 1, 18th Feb'23
We decided to opt for a train to reach our first destination as all the kids in the group were extremely excited about a train journey and have never been on one with a longer route. Our train was on Saturday morning around 5:30 a.m. from Hazrat Nizamuddin railways station to Madurai junction with an arrival time of 11:45 pm on Sunday night (19th Feb'23).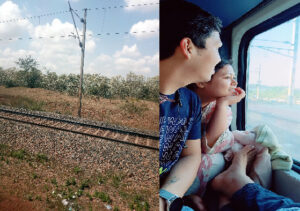 #Day2, 19th Feb'23 & #Day3, 20th Feb'23
We got the hotel JC Residency booked there for two days. We reached the hotel at 11:55 pm on the 19th night. Stayed in the hotel for a day which is the 20th. We also got the tempo traveler booked for us for the whole trip, they reached the station to pick us up on time. After a peaceful rest the next morning we decided to explore Madurai. The breakfast served was exceptional and we had our first sense of being in this part of India while sipping flavourful aromatic filter coffee. We explored multiple temples and were mesmerized by the beautiful gajras (flower garlands for hair) being sold almost in every corner. Meenakshi Amman Temple was breathtakingly beautiful.

#Day 4, 21st Feb'23 enroute Rameshwaram
The morning of the 21st we started early in the morning and hopped on to our tempo traveler with all our luggage for our next destination. Rameshwaram has been the dream destination for both sets of parents and the smile on their faces said it all. On the way to Rameswaram, our first stop was at Dr. A.P.J Abdul Kalam's national memorial. My father-in-law is a retired defense personnel and use to work under Dr. Kalam back in the 1990s. This place was extra special for him, with moist eyes he was remembering his service days.
It took us around five hours to reach Rameshawram and we had Hotel Fortune booked there. On the same day, we decided to visit the temple, and the people we met there made this trip all the more special.
To be continued…
This post is a part of #BlogchatterA2Z 2023
Please do not forget to subscribe to our newsletter and we promise not to spam you. Have you checked our parenting zone or humor section? Also, if you like my work, don't forget to follow me on INSTAGRAM.