This blog has a special place in my heart. Not only we managed to travel from part of the country to another, but we also got closer as a family. If you haven't checked out part 1 of this series then please read it here. In this blog, we will pick up from where we stopped in the last one which is reaching Rameswaram.
#Day 4, 21st Feb'23 enroute Rameshwaram
We reached our hotel at around 3:00 p.m. and decided to visit the Rameswaram temple on the same day. We got changed and went for a little walk. The Hotel Fortune is at such a beautiful location that it made all of us gasp in awe. The sunset was mesmerizing and the serenity of the place was nothing like we ever saw anything. We went on to see the temple post our food break.
Luckily, the temple wasn't crowded at all and we managed to see the beauty of the place with ease. To be honest, I have not been someone who is big on spirituality but the energy in temples is undeniable. Drawing thousands of pilgrims every year, Rameswaram is renowned for Sri Ramanathaswamy Temple, dedicated to Lord Shiva. The seaside town of Rameshwaram, in Tamil Nadu, is noteworthy for being the place in India that's closest to the neighboring country Srilanka.
It is believed that taking a dip in the 22 theerthams (holy water bodies, wells) in and around Ramanathaswamy Temple is integral to washing away sins. It is one of the twelve Jyotirlingas and has a huge significance in our culture.
Ramanathswamy Temple has twenty-two wells in its complex. Being the main attraction of this temple, the wells are also recognized for their distinct properties. All of these wells have water of different tastes, temperatures, and salinity not only that it is also believed to have curative properties as well. It is said that these wells were made by Lord Rama himself when he fired arrows into the sand. (Source)
After visiting the temple we moved on to explore the city a little. After walking for a little time we noticed a board for the boat ride and hopped onto it. The day ended with all of us being exhausted yet happy with the memories we were creating on this trip.
#Day 5, 22nd Feb'23 enroute Kanyakumari
The day started early as Kanyakumari was quite far. We had a delicious breakfast at the hotel and then started our journey to our next destination. Our first stop was a famous place called "Dhanushkodi". This place is located on the tip of Pamban Island which is separated by Palk Strait. This place's only land border lies between India and Sri Lanka which is one of the smallest borders in the world covering a stretch of just 45 meters.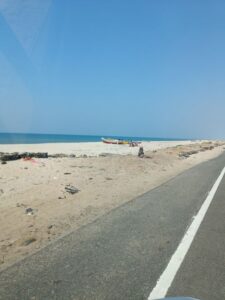 We didn't stay here for long as the journey to Kanyakumari was quite far. The sunset and sunrise in Kanyakumari are breathtaking and we all were super excited to witness them.  Around 5:00 p.m. we reached our destination and took an hour to get freshened up. 6:15 is the time when sunset can be witnessed in its full glory.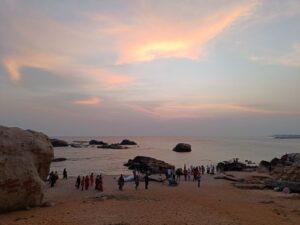 We witness the surreal beauty of nature and were mesmerized by it. In the evening we walked a little on the beach, enjoyed the local food, and came back to our hotel full of memories.
#Day 6, 23rd Feb'23 Kanyakumari-Madurai
The next day we explored Kanyakumari and shopped our hearts out. From clothing to famous spices and from local food items to pearls, we bought it all. Vivekanand rock memorial was our next stop. There was a bit of a crowd and we had to wait in a queue for around half an hour. Located 500 meters away from the mainland, Vivekananda Rock Memorial is a place of great scenic beauty, historical importance, and religious significance. The ferry ride was quite an experience for all of us as this is the only way to reach the destination. There are many ferry services that run between the island and the mainland with minimal charges. The ferry services usually operate from 8 AM to 4 PM.
We left Kanyakumari in the afternoon and started our journey back to Madurai.
To be continued…
This post is a part of #BlogchatterA2Z 2023
Please do not forget to subscribe to our newsletter and we promise not to spam you. Have you checked our parenting zone or humor section? Also, if you like my work, don't forget to follow me on INSTAGRAM.