I am not a great cook and I don't enjoy making meals that take a lot of time. I love home cooked food and often prepare a meal that is not much of a hassle but has all the nutrition and taste. My toddler has a sweet tooth just like her father. In our recent visit to my mom's place she ate Milk Powder Peda and loved it so much that she kept asking for it even after we came back home.
I called my mom the next morning and asked for a recipe. I always thought making Peda is a tiresome work and there is no way it can be easy to make. I was surprised to know that it needs only 3 major ingredients to make delicious home-cooked sweet.
Here is the recipe, I really hope you enjoy making and eating it as much as I did:
Ingredients:
Milk Powder: 200 gm
Milk (Full Cream)/ Toned milk+2 spoon Cream (Malai): 500 gm/ Half LTR.
Powder Sugar: 50 gm (increase the quantity as per your taste)
Crushed Cardamom: 2 pinch/ 4 cloves
Cashew/Pistachio/Almonds: 30 gm (for garnishing) (Optional)
Cooking Time: 25-30 minutes
Let's Cook:
Take a heavy base pan. Heat the pan and let the milk boil till it is half. It usually takes 10 to 15 minutes and you need to keep stirring it in order to avoid burning. Add Sugar and dissolve it properly. Add milk powder 3 to 4 spoons at a time. Make sure there are no lumps. Keep adding milk powder and keep stirring.
It should be of smooth consistency with no lumps. Keep it on low flame for 10 more minutes. You will notice it will start getting thick in the consistency. Add cardamom powder and keep it off the flame. Keep stirring and the consistency will be of a soft flour.
Make sure it is not cooled off completely. Give it a shape of peda/heart/ladoos or use a cookie cutter to give fun shapes. Garnish it with dry fruits and keep it aside for half an hour. Do not keep it in the fridge. Enjoy with your loved ones and don't forget to share your feedback.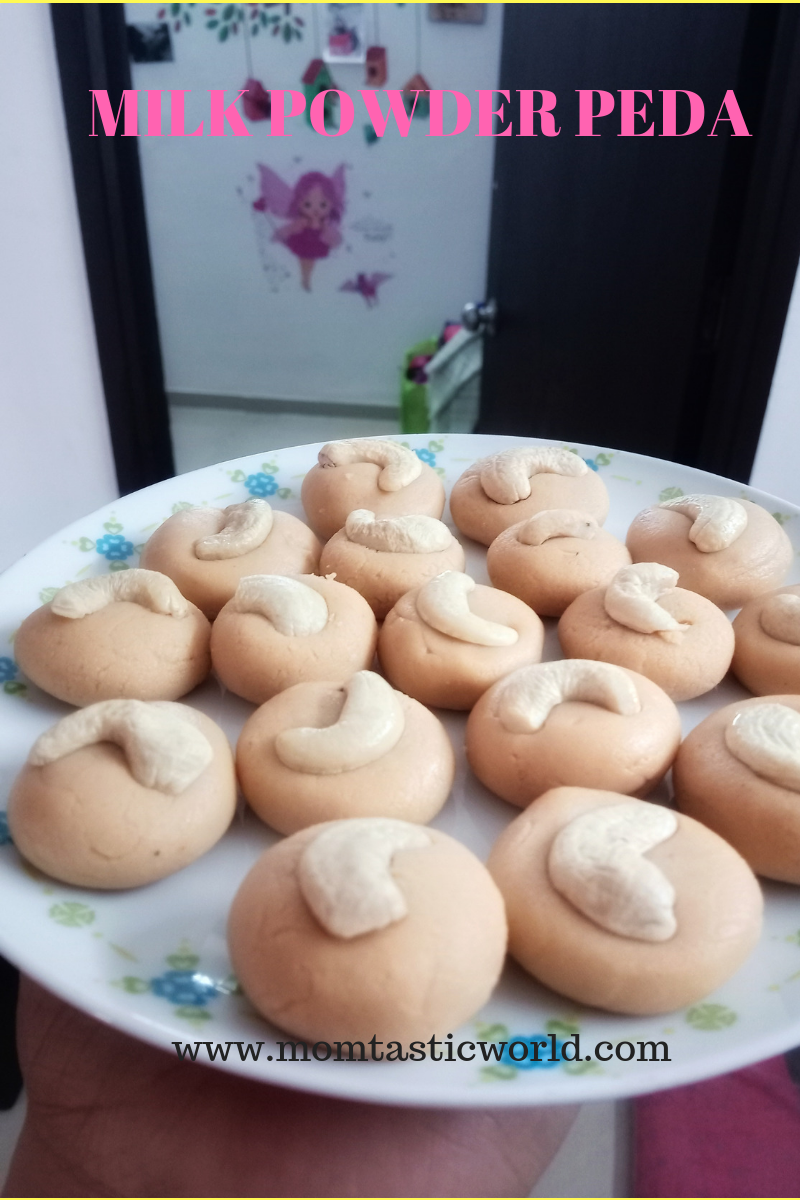 Things to pay attention to:
Make sure it is a Heavy-bottomed pan.
Milk powder is sweet in taste so take that into consideration when you add sugar.
Never keep the flame on high and stirring is important
If you liked reading this, then please do not forget to check a protein-rich breakfast recipe here. Also, if you like my work, don't forget to follow me on INSTAGRAM.