Amidst the barrage of new shows nowadays, we often depend on recommendations from our friends or family. I got to know about this show from a school friend who was going gaga over this Pakistani drama with strong female lead characters. Last weekend I binge-watched this drama and decided to pen down my thoughts for you all.
We have to give it to ZEE5 for constantly adding such engaging content and making sure to appease their audience with such a fabulous collection of shows or dramas.
Drama/Show: Churails
Cast: Sarwat Gilani, Nimra Bucha, Meher Bano, Yasra Rizvi
Director: Asim Abbasi
The name of the show "Churails" sounds quite intriguing and brings your undivided attention to this drama. There are ten episodes of this drama on ZEE5, each being an hour-long, approximately.
Churail which translates to witches in the English language is a depiction of women who neither give in to the unfair social norms of the society towards women nor bow down to the limits set by the patriarchal world.
Four strong female characters Sara, Jugnu, Batool, and Zubaida manage to get the attention of their audiences from their first appearances in the drama. The show is set in Karachi, Pakistan.
These four women come together to run an agency to hunt cheating men. The narrative of the story moves fast and keeps you hooked to know the characters well. The show unmasks the bitter side of the search for the truth. I absolutely love the background score of this drama and the cinematography by Mo Azmi really sets the mood too. After watching the resilient spirits of these women I can proudly say #MainChurailHoon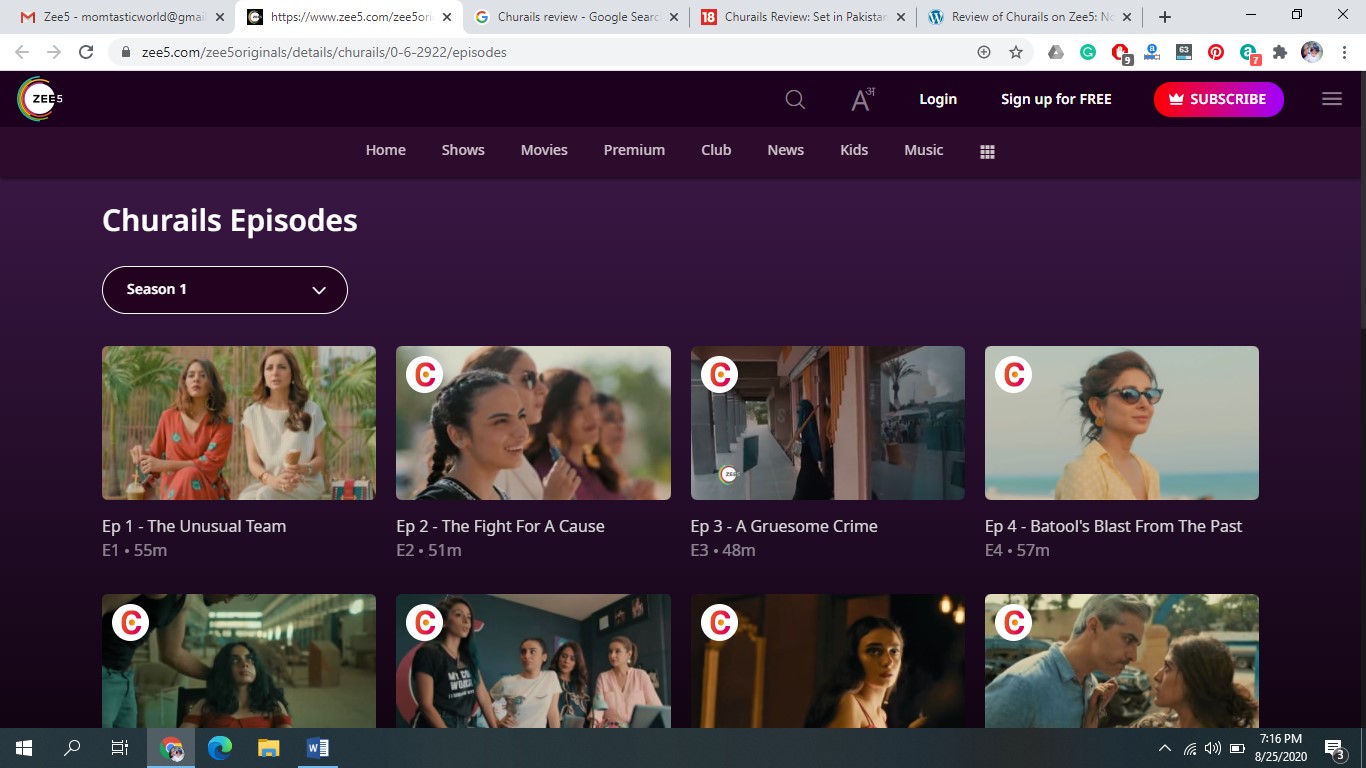 After ages, I found a binge-worthy drama with such strong women characters and yet so close to reality. The show is not men vs/ women but it challenges patriarchy and misogyny. The acting skills of all four women are absolutely brilliant.  The dialogues are so well written that they leave quite an impact on you.
It is definitely one of a kind series to have premiered on ZEE5 originals with perfectly placed cliffhangers and indeed a must-watch for everyone.
Disclaimer: This is a sponsored post, however, all reviews and opinions expressed in this post are based on my personal views.
If you liked reading this, then please do not forget to subscribe to our newsletter. Have you checked our parenting zone or Books Corner? Also, if you like my work, don't forget to follow me on INSTAGRAM.