Designers in the fashion industry and interior designers in the decor industry are making bizarre choices when it comes to designing dresses for Hollywood artists. You cannot just faux pas in fashion when it comes to choosing fabric for your home decor or to decor and showcase the best version of yourself to the peer.
Now, metallic fabrics and golden fabrics are used for both functional and decorative effects. They make excellent designs for the sofa, curtains, and carpets. These are durable, look shimmery and add a novelty and bring in royal effect to your home interior.
As far as the tailoring of apparel in the latest fabric designs is concerned, metallic and golden fabrics add classic finishing to the garment. It complements women of all ages. This is the reason, from pants; trousers to shimmery golden bags, metallic shoes, accessories are getting heated up in the fashion world.
Over the years, it has garnered wide attention, a promising consumer market base for its luxurious appearance on a wide range of fashionable products. Available in hues and accents of brass, silver, gold, bronze – these have also started being used on shoes, especially stilettos.
How can you incorporate metallic into your wardrobe?
If you're ever wondering to dress up including metallic on to your wardrobe, make sure you do not go overboard with it. Try keeping the metallic hues minimal.
If the fabric has metallic colors, try keeping the makeup simple.
You can pair white and yellow with slim metallic or golden waist belts.
A metallic waist overcoat with a cotton shirt and black trousers are much in trend.
Never go overboard with shine as it looks cheap.
Metallic Jewels and statement geometric jewels would never go out-of-fashion.
For women
Thus it's an era in which flirty feminine frocks, shimmering pencil skirts, and iridescent pastel skirts and jackets are making a bold and defined statement. The latest fabric designs range not just in metallics or golden, but mirror-shine metallics, brocade metallics, textured metallics, silver metallics, Gold vs rust metallics.
For men
It's been off-late that men are caught up in this fashion fervor. The metallic shimmers are ruling the runaway with a spectrum of classic silhouettes setting the battle of contrasts. But it takes a lot of courage to jump the metallic wagon, making models look irresistible and fearless. For men, metallic shirts to bold Fuschia foil trench to ice-blue metallic shirts have been sportingly opted by designers for their models in the runaway.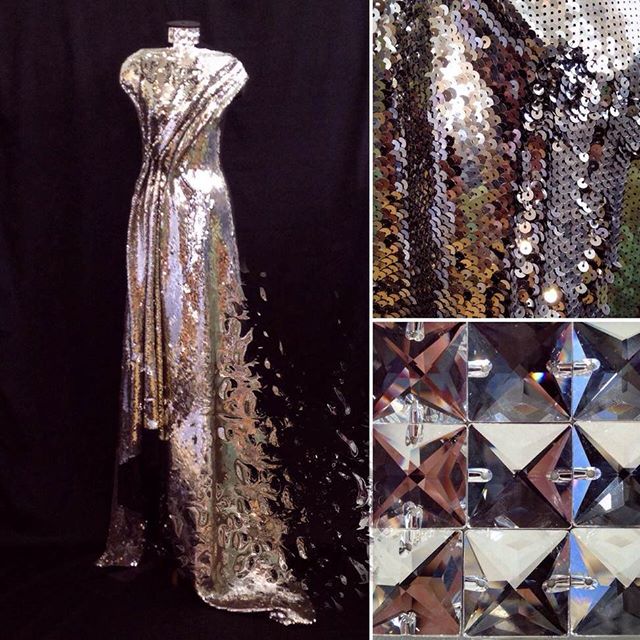 The idea of designers using such metallic fabrics is to make his/her muses shine out from among the crowd.
How to take care of such metallic fabrics?
These fabrics require professional dry-cleaning with perchloroethylene or could also be cleaned with Woolite and cold water. Avoid bleaching these fabrics. Make sure you iron using the low setting.
If you are someone who is caught up in the fervor of metallic fashion, stop, stroll at Tissura.com and get to pick some of the haute couture fashion fabrics of the times.
If you liked reading this, then please do not forget to subscribe to our newsletter. Have you checked our humor zone or recipe section? You can check a delicious protein-rich breakfast recipe here. Also, if you like my work, don't forget to follow me on INSTAGRAM.