Motherhood changes us, not just physically but mentally too. One of the biggest changes in my life this motherhood journey has brought so far is that I am more aware of the product's ingredients that I buy.
Being a mother we are always looking out for the best quality products for our little munchkins. Babies' skin is soft and sensitive which is why parents prefer to buy products with less or zero-chemicals.
One thing which I use most (throughout all seasons) for my little one is baby body lotion. It is important to keep the baby's skin moisturized well to avoid any dryness or itchiness. Finding the right product for this season was a challenging task given the weather and its temperature.
Summers in India are extremely hot and humid plus the hard water we get in metro cities makes the skin dryer after wash. I was looking for the best baby lotion for dry skin that is non-sticky and absorbs well. After a suggestion of a dear friend, I ordered Mother Sparsh baby lotion and have been loving the product.
I am a mother of a four-year-old baby girl and I have had used a few brands in the past, before settling with just a few right ones which suit her well. I needed a product that keeps her skin moisturized for a longer period of time. When it comes to baby body lotion, given the country and its atmosphere, we need a product that can be used throughout the year.
But before we go into the brands, let's discuss what all should we look for before buying the best natural baby lotion to keep their skin moist and safe:
Keep a check that the skincare products for babies should/must be certified and includes an ingredient that helps in keeping their skin smooth as well as safe. For example, Shea butter, natural oils like, apricot oil or coconut oil are known for their goodness of #moisturizing the skin for a longer period of time.
I love the organic baby body lotion which gets absorbed easily and doesn't leave the skin too greasy #softskin. Look for the lotion which strengthens the moisture barrier of the baby's skin & helps to prevent it from dryness.
In recent times, we as a consumer have started to pay more attention to what all goes in the product, and when it comes to our kids, we become all the more vigilant. Always check that the baby care range should never include dyes, strong chemicals/synthetic fragrances to make it smell nice. These must be free from parabens, phthalates, and other harmful chemicals.
Use the products which have ingredients with calming nature, for example, Aloe Vera extracts and Bees Wax present act as an emollient and skin soother that makes sure to smooth your baby's soft skin for hours, and giving a calm & relaxing effect.
As much as we like the products to be of the best quality, we also need to make sure these shouldn't burn a hole in our pocket. I don't believe that expensive means best. Look for products that fit your budget and make sure to know what all ingredients go in it.
The current living situation demands that the baby care range of products should be easily available. I prefer using online platforms as it is easy to order and gets delivered at my doorstep.
In the search for a lotion that keeps my little one's skin moisturized for a longer period of time, a dear friend suggested Mother Sparsh and that's when I got to know about this fabulous brand. When I first heard about plant-based products, I was intrigued to know more about the brand and its products.
If you are anything like me, then I am sure you have used the baby care range of products not only on your little one but for yourself as well. First of all, these smell so good, and secondly, have such a long-lasting moisturizing effect.
I have used a few Mother Sparsh products by now and in love with it totally. The baby lotion which I am currently using for my little one smells like fresh coconut oil and provides good moisture to the skin for hours.
Here is a little background about the brand and its products:
Mother Sparsh as a brand, always offers the best quality skincare products, and when it comes to our little ones a mother can never settle for anything less than what's best.
As the name suggests, Mother Sparsh Plant-Powered baby lotion has been formulated with nature suggested ingredients making this calming lotion the best possible choice for babies. It is crafted to moisturize your baby's delicate skin with its natural & plant made ingredients.
It is crafted for normal to sensitive skin. They have added ingredients only from the plant, essential oils & herbal extracts.
Their plant-powered range sourced it is all ingredients from natural sources making it truly a "Natural choice for your baby"
Mother Sparsh Natural Baby Lotion is free from phthalates, parabens, dyes, SLS/SLES, harsh chemicals, synthetic fragrances that means a natural, gentle & non-irritating solution to use on baby skin.
For complete nourishment, Mother Sparsh baby lotion provides essential moisture and protects your baby's skin that can be lost after bath time.
It provides strength to your baby's skin which helps to prevent any dryness & itching.
This naturally nourishing, non-greasy formula absorbs quickly into the skin, keeping the baby's skin soft & supple for a long time.
Mother Sparsh baby lotion is formulated with gentle ingredients to ensure supple & richness for your baby's soft skin.
With the synergy of innovation, Mother Sparsh has taken the responsibility to give the best, non-toxic & natural skincare solution for our babies. It is indeed one of the best body lotions for toddlers in the market.
We all agree that nature has all solutions for skin ailments. The brand has initiated its efforts to make the best possible baby products with ingredients that are inspired by nature.
You can get further details about the brand by visiting their website.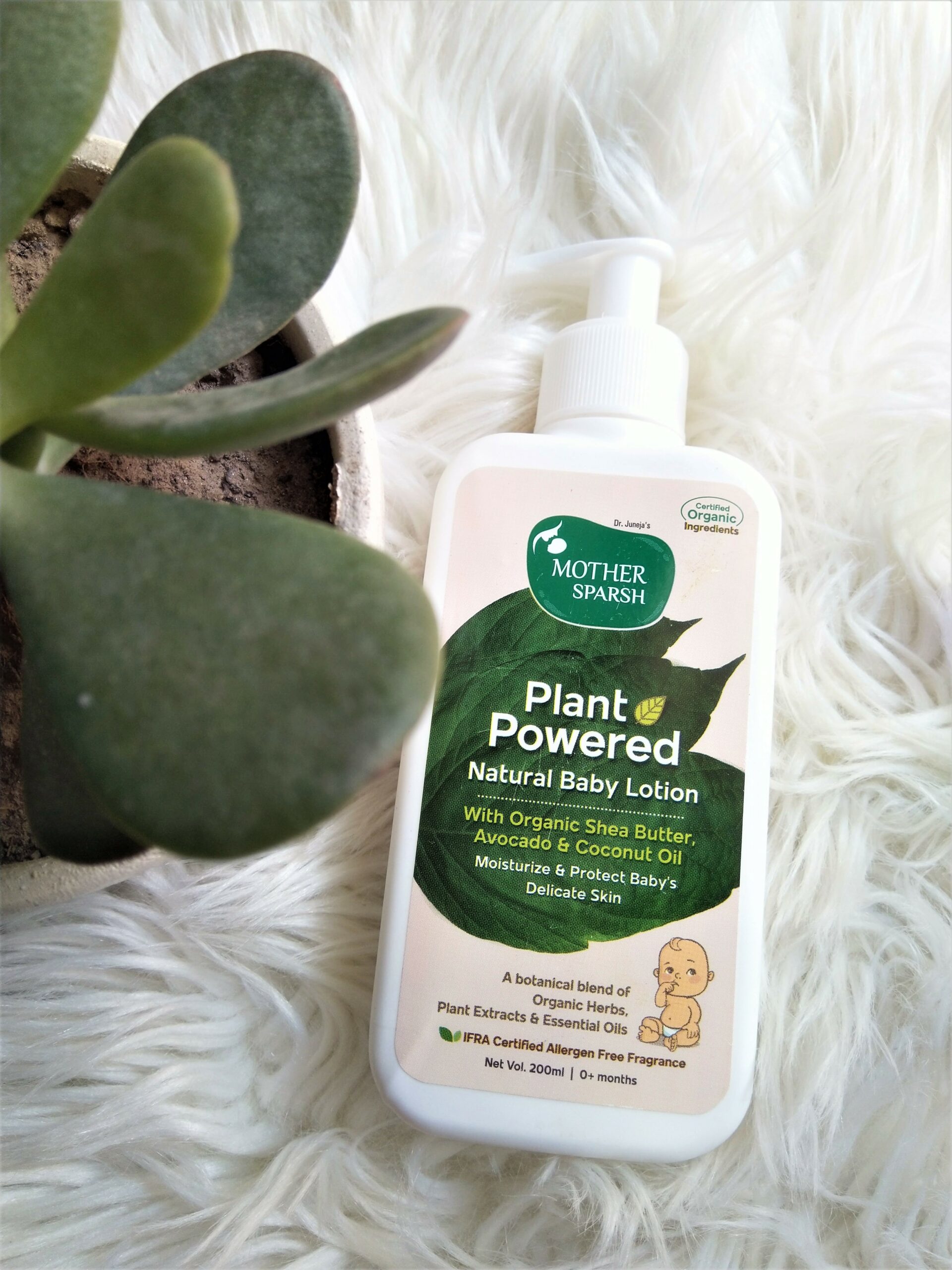 If you liked reading this, then please do not forget to subscribe to our newsletter. Have you checked our parenting zone or recipe section? Also, if you like my work, don't forget to follow me on INSTAGRAM.
This is a sponsored post by Mothersparsh but all views are mine. I have personally used the products and reviewed them on my experience.